Who says that a girl can have too many accessories? There are multitudes of ways you can style an outfit based on what you pair with it; a t-shirt can look chic with the right scarf and a favorite pair of jeans can come alive with the right pair of heels. Indulge your inner fashion designer and save up to 30% off on select accessories at Sears Canada.
If you'd rather something else a bit more manly or generic, check out our Sears Canada coupon page for other offers.
Visit Sears and find out more
Expires: 13th September, 2012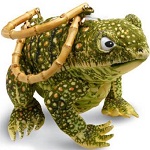 Not all accessories are awesome though. If you actually have a frog purse, you might want to either change it or hide it somewhere in a closet.
Like I previously stated, scarves are a great way to change up any outfit; just by changing the style or color you can add a bunch of new outfits with ease and for less. Pair up a basic tank top or t-shirt with this Nevada Petal scarf and you have an instant outfit.
Make sure to check out their selection of shoes, hats, purses and clutches for all your outfit necessities.