Let's face it; accessories are a great addition to any outfit and can make something boring into something eye catching. In the end they can cost you an arm and a leg if you're not careful, but who says you have to pay full price for a pair of earrings? We've partnered up with our good friends at Bidz.com to offer you an exclusive code to save $10 on orders of $100 or more and with the low auctions on the site, you can top up your collection to last you for years.
Make sure to bookmark our Bidz.com coupon page for other amazing deals and exclusives.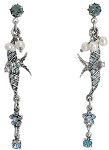 It's more than just an auction site on jewellery, they also have designer fashions at super low prices as well as electronics, to name a few. You do have to bid on the items, but some also feature a "Buy now" option if you'd rather not wait.
I fell in love with these earrings in the image on the right and then fell harder when I saw they were selling for only $1; they normally retail at $42, which is crazy savings. I can't post links since it is a live auction site, but it's insane what you can find there if you browse often enough.
I'm waving goodbye to my local accessory boutique and I've firmly been converted to this site. What about you?