It's not always clear what tools you need to start a small arsenal of makeup, so if you don't think ahead the total amount could be overwhelming. If you have a dream of becoming a renowned makeup artist or you need more than just a couple of items, then start with this 83-piece kit from E.L.F cosmetics. Right now, when you spend $25 or more, you can get this kit for only $3.50 instead of $35; that's a saving of 90%!
We have plenty of other codes listed on our E.L.F cosmetics coupon page and are constantly updating it with other great deals when we are updated by them.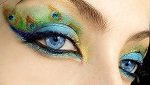 With practice and patience, you'll be able to create eye-popping designs like this!
Years back, I had a kit exactly like this one and it was a good base to get started. Just like the palette available on discount now, it also included a ton of eye shadow and lip-glosses, so much so that I had an endless possibility of combinations to experiment with. If you were to buy all of these items separately it could run you up to a bill as much as $250! This is a tremendous discount and something you shouldn't pass up, if in the market for them anyway.
To get this offer, make sure you have $25 or more in your cart and add the palette as well. Punch in the code and you'll be on your way to makeup heaven.
If you're looking for inspiration, check out the Youtube page of Xsparkage, a self-confessed makeup junkie. She gives tutorials on how to make some basic, but awesome looks when it comes to makeup.