If you've read the article I wrote about where to find coupons, you'll know that printable coupons are a good part of your collection. Imagine this: you're about to score a printable to get a box of diapers for free–it'll never happen, but a girl can dream–and crisis; you run out of ink! Never fear, Exceltoner.ca is here to the rescue with an exclusive code just for VoucherCodes.ca visitors. Right now, save 8% off your entire purchase and stock up on what you need.
We also have a Exceltoner coupon page if you want other printer related savings.
Keep in mind that this code can't be applied to OEM original products when placing an order.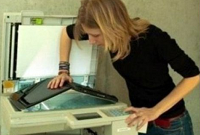 When we say to Print-Screen something, this is not what we mean! Granted, it would be funny to try this.
Exceltoner.ca has virtually every type of cartridge available and you can search by what kind of printer you have or model number. Their prices are super inexpensive and affordable for whatever your printing needs are. The best part? 95% of orders are delivered within 24 hours, so you don't have to wait to print out the coupon of your dreams.
Shipping is a flat fee of $7.95, no matter the amount or quantity you order.