All you really need is love, a little tenderness and some blue suede shoes (all Elvis Presley references for you younger crowds) this Valentine's Day. Check out what eLuxe is bringing to the table this season and save 75% off final clearance items to really get your blood pumping. If that doesn't get you going, our eLuxe coupon page might be able to do the trick.
Shop at eLuxe Canada Here
Expires: Not Provided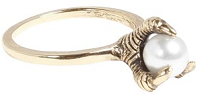 Feel inspired to go vintage this season with the pearl talon ring featured on the left. Classy, yet stunning, this baby has been dropped from $60 to $45. Need a bit more bling-bling? Grab this talon crystal ring at the reduced price of $52.50.
A good mini-skirt is like a good man: you can't go wrong with one! This especially holds true for this black mini skirt reduced from $250 to $62.99.
Shipping is free on orders of $100 or more.
Do you need some bling in your life?