A new year should mean a new you, right? Start it off with a new designer item from Luisaviaroma and feel just fabulous about yourself! Before the panic settles in about the potential prices, calm yourself down and take a peak over to our Luisaviaroma coupon page. Then, jump for joy when you see that you can save up to 70% off during their winter sale! Want more good news? No problem, we also have a promo code for customers to save an extra 20% off already reduced prices until Jan 2nd 2014.
Looking good has never felt this good or frugal!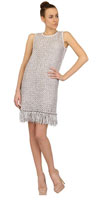 There is absolutely no way to go wrong with this beautiful crochet dress that would be a perfect date outfit, summer dress for a party, or to go shopping with your closest friends. I think you get my drift!
Grab your jaws because they are going to drop when they see the discount. With a regular price tag of $4061 (yes this is the designer of all designers–Salvatore Ferragamo), this white dress of pure perfection has been reduced 30% to $2843, and with this coupon above it would be further reduced to $2274. Pieces like this stand the test of time since selections are quality-items. It could be a good idea to pay a lot on one item that will last you a few years, as opposed to a bunch on a couple pieces that don't last more than a couple of months, but the one I selected is a little extravagant–but gorgeous none the less.
Oh, and this will be magical to your ears: shipping and import fees are included in the price. My day has officially been made!
What are you going to splurge on?