Throw away that list of people for whom you have yet to get gifts for and focus on yourself for a few moments; you deserve it after all! Kick back in a pair of sweats with a cup of hot cocoa….wait, you don't have a pair of sweats?! This problem needs to be fixed and Aeropostale has the answer! For a limited time, save 60% off everything site-wide, including those comfy pieces of clothing that are for lounging around the house in.
While taking it easy, make sure to surf our Aeropostale coupon page for ideas on how to save even more.
Shop at Aeropostale here.
Expires: 26th December, 2012
The Canadian shipping deadline to receive orders before Christmas has already passed, but it doesn't mean that you should miss out on this mind-blowing sale!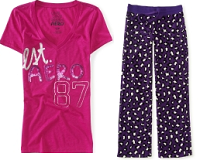 Mix and match your way through the Aeropostale's dorm section for all your lounge-clothing needs. My personal favorite is the combination on the right, which includes the sparkly logo tee at $5.85 and the animal print fleece pants at $8.55. While these two products together would normally come up to $48, they're only $14.40 during this sale.
Still need a dress in your arsenal for the perfect party wardrobe? Pick up this pink velvet tiered dress for $11.90.
What will you acquire for a low price?