Do you have plans this weekend? If so, do they include a trip to your local Ikea store? You're in luck if you are planning on one; save 50% on 5 compartment organizers this weekend only. They are easy to use and easy to look at as well and, for the price, easy on the wallet to boot. Instead of $8.99, they are $4.99 each, a bargain if ever there was one.
This deal is available in-stores only, but if you'd rather something online, make sure to check out our Ikea Canada coupon page.
Visit Ikea and find out more
Expires: 16th September, 2012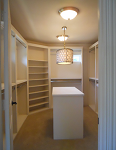 We can't all have a dream walk-in closet, unfortunately, but there's no reason we can't make improve the ones we already have!
These organizers are designed to hang in a closet, but could easily hang wherever you have a bar available to hook it onto. It could house whatever you'd like, from clothes to extra linens to shoes. I had a friend house her footwear in one of these gadgets and it saved a ton of space in her cupboard. There are 3 different colors for all your design needs.
There is a limit of two per customer, so recruit friends to join you if you'd like more.