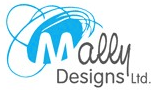 We've found a great deal on Mally Designs slightly imperfect leather bibs. They are currently on sale at 50% off while supplies last. Leather bibs? That's right and I love this idea as bibs are going to last longer and they are easier to clean as well. They are really cute and most of the time you absolutely can't see the imperfection anyway,

so this is an excellent deal.
They are all priced at $17.50 and shipping to Canada is $6.95. All right, it's a bit expensive for bibs but go and check them out they are really sweet. No coupon code is required, just click on our link below.