March 8th was first honored and observed as International Women's Day in 1909 as a result of the increase in women's rights from fewer working hours, better salaries to the establishment of voting rights. In celebration of this joyful day, The Body Shop has released a limited time offer discounting all their items by 40%.
Shop the Women's Day 40% off Sale at The Body Shop
Expires: 10th March, 2013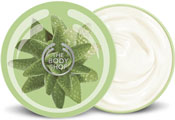 While we recently wrote about "the more you buy, the more you save" event, during which we recommended the
cocoa body butter, this amazing product has now fallen to the low price of $12! According to The Body Shop's description, it's particularly great in prevention of stretch marks following pregnancy as well as of overall skin dryness.
Granted a cocoa body lotion may be a little overpowering for certain daily scenarios (a work environment for example), so why not try the coconut or aloe body butters for a refreshing and healthier glow?
All things considered, there are just too many great offers that we could write about from The Body Shop and we definitely suggest you take a look at their online collection, especially with free shipping on orders over $75. For even more deals, visit our The Body Shop page when you have a moment.
How have you been celebrating International Women's Day?