Real men wear pants and even more realistically, men get their work pants from Dickies. Celebrate your man and your manliness with this rare promotion from Dickies Canada. Looking for a pair of pants that will withstand all that hard and grimy work you do? Then pick them up and save 40% off site-wide, including clearance items.
Don't worry ladies, you can still be manly and fashionable with their selection!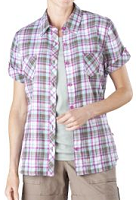 Plaid shirts are still in style no matter what people say and you should have one in your arsenal. Grab this short sleeve plaid shirt and don your best lumberjack impression. Even though it's a clearance item, it can be reduced even more with the nifty code above, down to only $16.70.
You want scrubs? We got scrubs: leopard print scrubs that will make you the cat's meow. Get them for $8.99 after the discount.
Shipping is also free to Canada on orders of $75 or more.
Which items will you save on at Dickies?