Happy hour is a great invention; slowly winding down a few hours after work with a few drinks. For those that would rather not pick up a fancy martini, head on over to Banana Republic, in-store or online, and get 40% off full-priced items starting at 5pm. In-stores, it runs until the store closes and online, it runs until midnight.
This deal is valid only tonight, but if you miss it, keep an eye open on our Banana Republic coupon page for other future deals.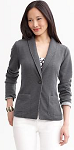 I'm really taking a fancy to their blazers and sweaters from their new collection! Take this one-button blazer–also shown on the left–as an example. It's regularly $110 and, with the discount, comes out to $66 instead. Pair it with this floral pencil skirt, which comes out to $66 too, and you have an instant outfit.
Don't forget that shipping is free with orders over $50.