With Black Friday and Cyber Monday right around the corner, Garage has released an amazing coupon that lets you save 40% off your entire order and even gets you free shipping.
Speaking of which, be sure to check out our Black Friday Deals page, that's dedicated to us Canadians.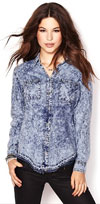 Looking for a trendy shirt for the week-end? Try this Morning Rain Denim Shirt, on sale for $20. It has just enough flair without being too over the top.
I also found this cool Dangling Charm Necklace, which is a sure winner for any outfit.
If you're purchasing for a friend, be sure to donate $1 to the Starlight Children's Foundation in exchange for a gift box. This can also work if you're buying for yourself; there's nothing better than rewarding yourself!
Let us know what you will be getting from this amazing Garage sale?