Did you know that glitter is in fashion this season? It's the reason why everything is sparkling and attracting my attention like a moth to a light. Pick up one of the latest trends this season and save even more with our Vouchercodes exclusive. Shop from Pugster's wide selection of jewelry as well as from their Black Friday collection and save 35% off site-wide.
I'm not ashamed to say that I have a glitter addiction!
As an added bonus, you also qualify for free shipping on orders of $100 or more.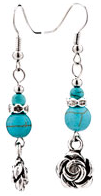 How could you go wrong with these turquoise earrings featured on the right? It's enough bling without going overboard and, after punching in the code, they are frugally-priced at $5.52.
Pair it with a pretty necklace and you're on your way to being super fashion forward. Why not get this green heart necklace for $7.50? Sounds nice to me!
Every girl would love this site. Will you be shopping there for the holidays?