The weekend has arrived and there's no better time to kick back and relax while we have the chance. Why not dive into a new book and get lost among its pages? Kobobooks Canada clearly thinks that you should do this and is currently offering 30% off on select titles that are too good to miss.
Don't believe me? Check out the selection yourself!
We also have a pretty sweet Vouchercode.ca Exclusive located on our Kobobooks Canada offer page for you to save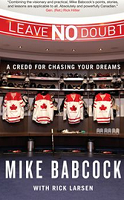 30% off select titles off this offer is done. The savings continue on, no matter what!
A truly Canadian non-fiction book that looks like a good read is Mike Babcock's Leave No Doubt: A Credo for Chasing Your Dreams. If you don't know who he is, he's the current coach of the Detroit Red Wings and is the only coach in history to have led teams to victories in the Stanley Cup, the World Championship, and the Olympic Games.
The story talks about his achievements and the road to gold as well as the many obstacles met along the way. It provides insight into the mental preparation involved when it comes to preparing for such crucial games and how to motivate your team around you; be it a hockey team or just your every day group. Currently priced at $12.71, this book drops down to $8.90 after the rebate.
I currently love my Kobo eReader and I can't get enough of it! What do you think of your eReader?