Have you managed to get your hands on a Kobo eReader? I've been a firm believer in this device ever since I picked up one myself a few months back and haven't looked back. Many of your favorite books are actually cheaper as a digital version versus their hard cover or paperback formats. To help you save even more, we've teamed up with Kobobooks to provide you a true Vouchercodes.ca exclusive code : enjoy 30% off select bestsellers.
To access the list of bestsellers, click on the link provided below.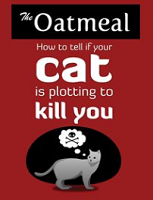 Make sure to bookmark our Kobobooks store page where we keep up to date with the best deals.
Fans of The Oatmeal should welcome the book, How To Tell If Your Cat Is Plotting To Kill You, into their book collection with open arms. A satirical look is used to break down everything your feline friend does and how they are truly discovering your weak points and not just showing affection. For only $5.39 after the rebate, it will provide you laughter for many years to come.
A book that sparked my interest (and I hope yours as well) is My Horizontal Life, A Collection of One Night Stands for $6.58 with the discount. It dives into the interesting tales of what happens when a man and a woman leave a bar together after a few too many drinks. It's filled with humor and shows a brighter side to those one night stands.
Let me know what book you would buy from the selection!