Though prices seem to run higher on Banana Republic than on the other brands under the same umbrella (Gap & Old Navy), the best option is to shop during sales and clearances, such as Banana Republic's save 30% off already reduced items in the sale sections.
Did you know that Banana Republic's clothing originally revolved around safari and military adventure clothing?

One of the biggest trends for Spring 2013 are statement necklaces, which are perfect for exactly that: making a statement. Appropriately, the sparkle statement necklace is sure to glam up any outfit and can definitely even be worn at work as long as your top is neutral, such as with the silk buttoned tank.
Most importantly, don't over-do it with the accessories and it's advisable to wear hair up to truly allow the necklace shine.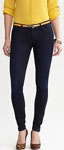 Oftentimes jeans can end up being too tight and uncomfortable, especially after a trip to an all-you-can-eat sushi restaurant. As such, the indigo denim pants, that are labelled as both a denim and a legging (also known as jeggings), ensure maximum comfort and can even be styled with a belt as it includes hoops.
Clothing for guys isn't excluded from their amazing sale either — just take a look at the micro-strip textured cardigan, perfect for showing off those muscles in a low-key way.