Though I just recently wrote about a 20% off VoucherCodes.ca exclusive for Garage, they have upped the ante just in time for Easter week-end! Good for a couple of days only, save 30% off all regular-priced merchandise at Garage.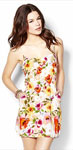 With the slowly mounting temperatures, get ready for summer with the
floral dress featured on the right. Falling to $20.93 with the above coupon code, it's sure to keep you looking hot and feeling cool all at the same time. It even includes pockets and an elastic waistband for superior practicality.
It could potentially even be paired with the crochet shrug for those windy days spent picnicking.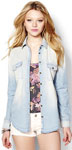 Speaking of a picnic, did you know that this word used to be a reference for a potluck, a party during which each invited person would bring a dish of their own? Though it's not used quite as such any more, it doesn't mean that you can't host one of your own! While the food is important, so is your style — maybe you could wear the lovely Arizona blue denim shirt with the floral dress mentioned previously. At $27.93, you will definitely look nothing but cool!

For those in need of a new bag, the denim backpack is a classy alternative to a regular (and boring) schoolbag. For just $20.93, wear it to summer classes, the beach — anywhere!
If you happen to miss the sale, you can still save with our awesome VoucherCodes.ca exclusive for 15% off items at regular price, valid until June 30th, 2013.