Some of the most famous authors are widely known and celebrated across the world for their books. Take a break from the popular books and discover a new indie read thanks to Kobobooks. For a limited time, you can save 30% off select indie reads that have dominated in their niche and can be yours to flip through at a discounted price.
The Kobobooks Canada coupon page is also yours to discover if you haven't already.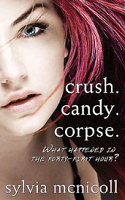 The book featured on the left by Sylvia McNicoll, Candy.Crush.Corpse, stood out to me because of the title and its cover. The story is about a girl who has to do volunteer hours at an Alzheimer's patients' home and, over time, she gradually realizes how their lives are very similar. She then every effort to try and make them truly happy. Discover this read for $4.61 after the discount.
Another one that jumped out to me was Real Justice: Fourteen and Sentenced to Death by Bill Swan about the true story of Ontario resident Steven Truscott. He was convicted of murder at fourteen for a crime he didn't commit and spent more than 40 years trying to prove his innocence. All of the reviews are positive and say how breathtaking and remarkable the story is. Add it your collection for $5.39 after the discount.
What are you going to pick up?