We've all been there: we reach for the TV remote controller (or Xbox360 controller) and BAM….the batteries are dead. We then go on a mad hunt and tear the entire house apart just to find batteries that still have some juice in them. Avoid this dilemma by fully preparing for the next time your batteries fail with the help of The Source's nifty sale. For a limited time, save 30% off all batteries. Sales like this just make you want to kiss our The Source coupon page with pure joy!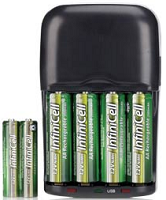 While debatable of course, I believe that one of the best things ever invented were rechargeable batteries asthey last a long time, are easy to recharge and are overall a frugal choice. A great product in this selection is the Infinicell charger that comes with 4 AA batteries and 2 AAA batteries along with a bonus USB port to provide a well-rounded device for all of your needs. This item has even gathered incredibly stellar reviews from the majority of reviewers. Get it for $21.02 after the discount.
Pimp out your Xbox360 to the max by picking up this rechargeable battery pack for your controller for $14.02 after the discount. And the best part? There are 2 batteries in the pack!
Save a bit more by having your order shipped to your local store for free.
Will you be taking advantage of this deal?