As you anxiously wait for the big day, twiddling your thumbs with the Valentine's Day date all planned out, your outfit for the night already prepped and ready, have you figured out what to wear for the private after-party that you two are going to have? I bet you forgot about that little detail. La Vie en Rose made my best lingerie deals list for Valentine's Day and for good reason! For a limited time, get shipping for only $3 when you spend $50 or more.
The La Vie en Rose coupon page is sexy enough as is –just sayin'.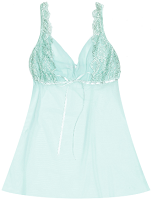 Make sure he doesn't take his eyes off you ince this wonderful Adalina mesh and lace baby doll for $39.95. It will show off all of your best parts and feel great to the touch.
If you want something that covers a bit more to leave him guessing, swipe up this Felisa chiffon and lace nightie for $39.95. It's a bit more dainty and girly than the other one I featured, but will make you look just as dazzling.
How are you going to wow your man this Valentine's Day?