Did you know that we have a contastly updated Gap Canada with the latest offers? The most current one is your chance to save 25% off men's and women's styles, only valid today, February 26th, 2013.
Don't worry if you miss this unique day as the code will continue to remain active through February 27th, 2013, but with a discount for 20% off instead.
If you're interested in bundling up the younger members of your family for less, make sure to read here about how you can save up to 40% off on items for kids.
Men, this spring season is all about looking effortlessly fabulous.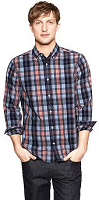 One of the ways to accomplish this is via the lived-in plaid shirt for $42.99 before the added discount. Wear it as a button up shirt or leave it open, paired it with a basic tee, like this V-Neck tee in grey at $14.99.
A good-fitting pair of jeans is an arsenal for success and will help look fashion forward without trying. Straight jeans such as these vintage wash jeans at $69.95 before the rebate, are perfect for any wardrobe.
Shipping and returns are free with orders of $50 or more. You can also combine your totals from the other Gap sites (Old Navy and Banana Republic) to reach the threshold with ease.