Good-looking and comfortable work clothes can be hard to come by, especially when shopping on a budget. Luckily, Ricki's is having a 25% off exciting sale on already reduced items in the clearance section.
Shop the 25% off sale at Ricki's
Expires: Not provided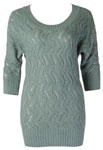 Featuring a wonderful weaving design, the ripple texture pullover is guaranteed to quickly become a favorite sweater for work or casual wear. On clearance for only $14.99, it's available in an assortment of the following colors: rich cranberry, ivory, charcoal, luscious teal, amethyst, and aqua mélange. Keep in mind that according to reviews, the ivory is really just white and the rich cranberry is a darker red than one would perhaps expect.

Stereotyped as the kind of material most likely to be worn by nerds, tweed is actually making a comeback to modern fashion. Providing a classy look through a material that is durable and more importantly breathable, take a look at the ultimate miracle pant in brown tweed, reduced by an incredible 72.5% to the low price of $14.99. Based on the multiple reviews, these provide for great comfort as they exclude buttons as well as zippers and since they're made bigger, it is advisable to get a size smaller.
How's that for creating a great office look on a budget? Even more frugal is the Ricki's discounts page displaying all the sales and deals.