We're friends, right? Are we close friends, like almost family kind of friends? I hope so because it's time to shop the friends and family sale at Teavana and we should do it together! For a limited time, save 25% off select items, including a wide selection of loose leaf tea. As a bonus, shipping is also free on orders of $50 or more.
I'm friends with my Teavana coupon page, are you?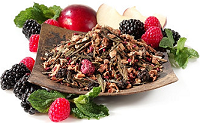 Winter not only means cold temperatures and the perfect season for skiing and snowboarding, it also means that it's the time of year where everyone gets the flu (including yours truly). Boost up that immune system with a tasty green tea that will help combat all nasty flu bugs. Try this Blackberry Mojito Green tea and tantalize your taste buds with something divine.
While green tea is good on its own, it gives an extra boost when paired with fruit. This one contains blackberries, raspberries and a kick of spearmint to get you going. Get a 2oz bag for $5.85 after the discount.
What's your favorite tea to sip on?