It's not every day that we see an even bigger chance to save at Jysk Canada. In fact, I was just thinking today about how great it would be to save online and poof; my wishes were answered! For a limited time, save 25% off site-wide and keep your money where it belongs: in your pocket.
You should also bookmark our Jysk Canada coupon page. No questions needed, just do it.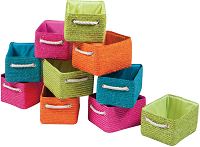 It really isn't often at all that Jysk offers coupon codes to save even more, so don't miss your chance while it's still available!
These funky colored Jana baskets at $4.89 each, can make any household a little less messy. They are the right size for any messes and allow for a cute and effective fix to all those loose items around the house. Add the coupon code and they pop down to $3.67 each.
Looking for a neat way to display all those pictures taken during the holidays? Get your hands on this Napa collage frame for $18.74 after discount and let those creative juices flow.
With a code like this being as rare as it is, how can you say no?