Are you ready for Halloween? Do you have your costume already set aside just waiting for that magical night? Most of us–including yours truly—don't have a clue of what kind of disguise we wish wear this year.
The best advice I can give to keep frugal and stay on track when looking for a costume: Shop early and shop around for the best prices. Make sure you plan enough time for shipping so you're not left empty-handed at the last minute. I've found some of my favorite sites with their corresponding best discount and I'm here to save you this Halloween season!
My Favorite Costume Deals for 2012 in Canada
The Children's Place:
Much more than just adorable clothing for children, they now have a selection of Halloween costumes for your tykes! Some of them are already reduced, plus you can save even more with our exclusive code.
Wholesale Costume Club:
Shop a super huge selection of costumes for all ages and sizes, from babies to teens to adults. You don't have to be a member to make a purchase, but some of the savings you get as member are pretty outstanding, hence why I've provided you a code to get membership for free.
Canada Costumes Online:
A proud Montreal, Quebec retailer, this is one of the few Canadian based retailers that sell costumes online. Don't miss out on some of the awesome group ideas, like a Teenage Mutant Turtle Theme for ladies.
Buycostumes.com:
One of the largest U.S. sites that ship costumes, they are super well-known in their field and for good reason! It's almost impossible not to find what you're searching for. Shop their vast selection and save with this code.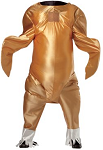 There's also other options available to you locally if you'd rather not order online; take a peek at a thrift store or ask a friend to borrow one of their old ones. I managed to compile an awesome fairy princess costume last year, complete with wands and wings, by just borrowing items from friends!