A beautiful new offer has popped up on our Buffalo Jeans Canada special offers page: starting today and lasting until it's been redeemed 50 times or until March 31st, 2013 –whichever comes first– you can be one of the lucky few to snag this coupon code and save a bundle. Order for $199 or more and enjoy 20% off your entire order along with free shipping.
Isn't it time to spruce up your wardrobe with some of the amazing clothes available in the sale section of Buffalo Jeans?
Buffalo jeans are well-known around the country and it's easy to see why when you lay your eyes on these Felow jeans that have been reduced to $98.99.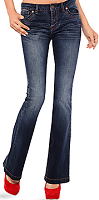 They have a flared bottom and a fitted waist to give a stunning look to your legs.
Don't worry men, there's something for you too. I've always had a thing for a man in dark jeans and, if you're like me, you'd definitely appreciate these Six-X jeans marked down to $99.99. They are fitted, bold in design, and include a contrast stitching on the back pockets to draw attention to your…well, you know!
Love Buffalo jeans? Tell us about it in the comments below.