Considering that jewelry is at the top of any list of the best gifts for Mother's Day, you really can't go wrong with our VoucherCodes.ca Exclusive granting 20% off all orders at MyJewelryBox.com (except sale items).
On top of having a wide selection of stunning jewelry, ordering with MyJewelryBox.com is a quick, easy and best of all frugal process as there are no duty fees to be paid since orders are shipped from Canadian locations.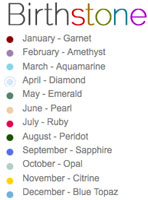 Finding the perfect and most thoughtful gift for Mother's Day isn't as daunting as it may seem, especially when it comes down to selecting jewelry. While you can base yourself off her favorite color, there is also the option of selecting a stone associated with her birth month. If your mother's birthday falls in April, then the Emerald Infinity pendant would be perfect not only because of the 0.15 carat diamond, but also because of the infinity sign, which can symbolize your endless love for her. Originally priced at $160 and discounted to $99, it comes with the chain and can also be further reduced to $79.20.
Another necklace worth noting is the family tree pendant. At $79.20 as well, it features 18k gold and 5 smaller gems, which could perhaps represent each of your siblings? Whichever way you decide to add meaning, be sure to let us know on Twitter!

While we're on the topic of infinite love, the Infinite Love Double Heart bracelet could also make for an inspiring gift, especially since a lovely twist has been applied to the regular sign of "infinity". Normally associated by an inverted number "8", the infinity sign has been created with 2 hearts instead.