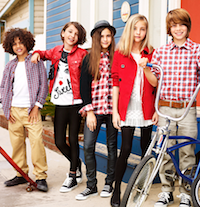 H&M rarely releases printable coupons but we can understand because they already sell their clothes so cheap that it's probably hard to give extra discounts. So whenever we find one, you can be sure that we'll talk about it. The below coupon will get you 20% off any purchase of H&M kids clothing. This is right on time for back to school shopping as I'm sure a lot of you have already started it or are going to shortly. Coupon need to be redeemed before the 14th of August.
Print H&M kid's clothing coupon
It's hard to imagine our lives today without H&M stores in Canada but it wasn't so long ago that the H&M brand first arrived in Canada. And today it's now certainly one of the most popular stores for teenagers but also for young adults. I personally love H&M's style but I try not to buy too many things at their stores, because so many people shop there and I don't want to be wearing the same dress as one of my colleagues. I also love their collections for kids. It is stylish, cute and affordable. If you like dressing your kids with the latest trends but you don't want to spend a fortune on clothes that don't last for a long period of time anyway, then H&M is a good option.