Being street savvy doesn't mean that it has to cost the next few paychecks to be able to afford the latest trendy article of clothing. Take a tip from the pros and, after visiting our glamorous Romwe Coupon page for the latest deals, check out our Vouchercodes.ca Exclusive code. For a limited time, you can save $20 when you spend $100 or more.
There's no better way to save than with our help!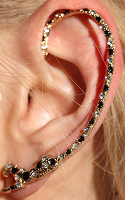 While their collection seems to consist of the weird and unusual, Romwe also offers functional and actually eye-catching items. If you're looking to make a statement and to leave your mark, any number of the items available will do the trick.
Show off how you really are the cat's meow with this Single Leopard earring featured on the right. It can be added to any jewelry collection for $12.30 and will act as a unique feature to any outfit. Some tamer earrings are also available to please all tastes.
Really want to make an even bolder statement? Pick up a pair of these Planet Print leggings for $27.99 and you are sure to create buzz no matter where you go!
Which items are you captivated by?