Summer is a time of celebration with countless birthdays, anniversaries, weddings, births and so many other joyous occasions. Take a second to order from 1800Flowers.ca and save 15% with yet another one of our fabulous VoucherCodes.ca Exclusive coupons!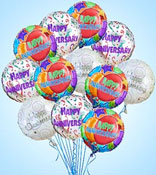 Last time, I wrote about the various flowers that would be great for
giving on special occasions such as during or after pregancies, but anniversaries are just as important and as we all know, the bigger, the better.
On top of picking a stunning arrangement from the many bouquets available in the Anniversary section, take a moment to consider adding the anniversary balloons, which would make for a truly unforgettable day.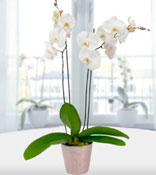 In case you're worried about giving a certain color of flowers that may not be as appreciated, then perhaps a white bouquets could make for a unique choice, such as with the Whipped Cream arrangement. It features flowers of shades of cream and white makes this bouquet a classic one.
Otherwise, perhaps a white orchid would be an unforgettable choice as well. Though it's not a flower bouquet, it is however sure to last much longer and consequently, remind your loved one of your gift for a longer period of time as well!
Have you ever given or received flowers for no reason at all?