I bet you didn't know that you can get a stunning outfit for your big Valentine's Day plans at Garage Canada. Be stunning and frugal friendly all while enjoying a sweet discount of 15% off your order and totally free shipping. Don't worry, he will never know how much you truly saved on your jaw dropping outfit!
Our Garage Canada coupon page is still in need of a date for the big day, just sayin'.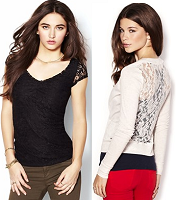 The big goal here is to not only pick up the perfect outfit for your date, but to also get pieces that you can mix, match and reuse for everyday outfits. Let's begin!
Start with this Black v-neck tee and this optional white mesh cardigan. I say optional for the cardigan because it depends on how sexy you truly want to be and/or how cold you think it will get.
Grab this pencil skirt to show off those daring legs and pair it with this gorgeous elephant necklace to show him where your heart really is.
Wait, did someone say that select jewelry is buy one, get one 50% off? Score! Add this Double Cuff Set and you're ready to go.
Grand total after discount: $76.54 and it ships for free. Look at everything can get for that price and start daydreaming about where else you can wear it.
What are you going to wear?