I was pondering today about how great it would be if a magical discount code would just appear for Garage Canada and I bet you were too. Well shazam, we're all in luck! Take advantage of 15% off regular priced items plus shipping for only $1 for a limited time.
Sprinkle some fairy dust onto the Garage Canada coupon page and watch as the savings magically appear.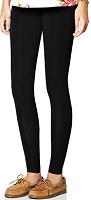 Every girl should have at least one pair of leggings in her arsenal of clothing and, if you don't yet, it's time to pick some up. A good pair to start off with are these super soft black leggings, which come out to $10.96 after the discount.
While there exists a proper and an inappropriate way to wear leggings (refer to this accurate image on how to and how not to wear leggings), the most common mistake is wearing them as pants but it can't be stressed enough that they are not pants! Pair leggings with a long shirt that covers your butt or with a dress when it's colder. I have a couple dresses that I wear in the winter with leggings and it looks outstanding.
Since leggings are form fitting (think stockings coupled with a solid fabric instead of sheer), do you really want everyone to see the outline of your underwear? It's definitely something to consider before committing a major fashion faux pas.
Do you wear your leggings as pants?