Electronic devices can often require a bit of budgeting to get them, but what do you do once you finally have the much anticipated item? Accessorize it! For a limited time, take advantage of our VoucherCodes.ca Exclusive and save 15% off accessories at Canon.
As usual, don't forget to check our Canon store page next time you're looking to save at their all-encompassing eStore.

With Instagram all the rage now, simplify your picture taking with the remote switch which acts as a shutter release button and features a 2-foot long cable. Granted you'll be needing an actual camera for this handy accessory but it's definitely well worth it, especially for those family gatherings where someone is always left out of the picture.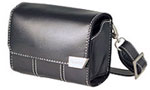 As far as camera accessories go, a durable case is also particularly vital because at the price that certain cameras cost, you'll definitely want to protect it from anything: whether rain, snow, sand, cold air, etc. The leather case on the right definitely won't disappoint with its material that is certain to last a number of years. Though this one is specifically designed for the SX II series of cameras, it could potentially serve as the perfect case for other models — simply take a moment to compare dimensions.
Which accessory from Canon are you most in need of?