Have a mini staycation (a vacation at home) this winter or ship your least favorite relatives to a hotel with one of the many hotels available at Hotels.com. Besides already offering discounted stays and price match guarantees, they've upped the ante by allowing you to now save an extra 10% off your stay at certain hotels. Being frugal in a complete state of relaxation has never been so good.
We also have a super active Hotels.com coupon page with all the latest and bestest offers around for you to get away.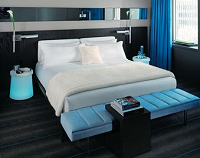 Montreal has a variety of designer hotels at your disposal, including the iconic W Hotel featured on the right. Trendy and super chic, this boutique hotel offers only the vey best in terms of comfort.
Rooms are pricey at $199 a night, but it's the perfect excuse to getaway and escape reality for a night. Input the code located above and this luxurious hotel can be yours at only $179 a night.
How will you be vacationing this winter?