You don't need to spend an arm and a leg to impress your favorite lady for Valentine's Day of 2013. The best surprises really do come in small packages and that's about to come true – with small prices, that is. For a limited time, save 10% off regular-priced jewellery and pick out something that's just as special as the person you're giving it to.
Proof of big things that come in small packages: our Blue Nile coupon page. Big savings, small page.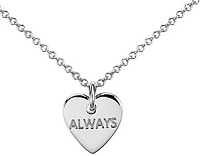 Show her how you will always be in her heart with this Always Mini Heart for $45 after the discount. It will sit close to her heart and act as a constant reminder that you're always around, even in your absence.
Want to be a little more romantic? Pick up this floral engraved locket and place a picture inside of something that makes her happy — either a picture of you together or her favorite pet…you get the idea! Make your own for $90 with the discount.
What has caught your eye?