Being a contact wearer myself, I know firsthand how expensive buying lenses can be. They make a great addition to your life, if you enjoy them, but it's costly. Vouchercodes has teamed up with Ac Lens to bring you an exclusive to save 10% off your order of $100 or more. With Halloween around the corner, this is also the perfect opportunity to pick up something extra for your costume.
Make sure to bookmark our Ac Lens coupon page for other great and eyeglasses and contact lens deals.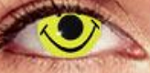 I don't think I'm daring enough to wear these smiley face contacts, but they are so cool!
I wear the monthly Air Optix Aqua lenses and, because I have two different prescriptions for each eye, buying a supply for 6 months from my optometrist was costing upwards of almost $120. Once I saw the prices of the same mark of lenses at Ac Lens, I was in shock at how much I was overspending y buying on the high street!
The lenses I wear at Ac Lens is only $31.05 for a box of 6; so if I were to buy an entire year's worth–4 boxes of 6 lenses because I have two prescriptions—it would come out to $124.20. That's a total saving of 51% per year and that's before the discount to top it off.
Don't forget to get your eyes checked every year by a professional, just in case. Shipping is also free with orders of $100 or more.