Take an island vacation each time you take a sip of coffee and picture yourself on a beach with the ocean rolling in the background. The selection of roasts and blends from Coffees of Hawaii is enough for you to want to dance the night away, but your mug is about to taste even sweeter with our Vouchercodes.ca Exclusive. On your next order, save 10% off purchases plus get free shipping on orders of $40 or more.
You don't need to spend $40 to receive the 10% off discount, but shipping comes out to a flat fee of $4.50.
Don't forget to drift over to the Coffees of Hawaii page if you're in the mood for a luau of savings.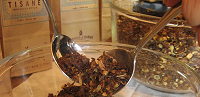 They have a line of loose leaf tisane tea available that is just as fabulous as their coffee. The Hibiscus Raspberry caught my eye and the ingredients made me desire it even more. With both staring flavors and coffee cherry to give it a caffeinated kick, imagine sipping that on a cool, spring afternoon?
Another must-have flavor would have to be the Papaya Leaf Vanilla tisane that is as light and tasteful as the name suggests. Also with a hint of coffee cherry to give it a kick, this tea will surely transport you to a far off destination.
Have you had any of the teas or coffees from this brand? Let us know in the comments below!