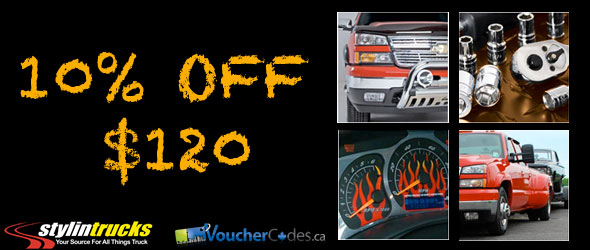 Granted it's not everyone who owns a truck but for those who do, Stylin Trucks is the online place to shop. For a limited time, all truck owners and let's face it, lovers, have the chance to take off 10% off $120.
Need another incentive to shop at Stylin Trucks? Heavily focused on customer satisfaction, a 1-year guarantee is offered on all of their products.

Phew! Trucks, SUVs and Jeeps can sure rack up a lot of dust, especially depending on the kind of brake pads that are used. Save yourself the headache of dusty wheels and potentially even daily cleanings with the Kleen wheels brake dust shields that range from $40.99 to $42.84. On top of being easy to install, just take a look at the before and after picture on the right — now that's clean!

While we're on the topic of clean, get ready for next year's winter with the Husky liner floor mats, ideal for keeping dirt and mud off the carpets. According to reviews, it also keeps dog fur off the carpets for those travelling with their furry best friend. Starting at $48.95, these floor mats are available in grey, tan or black, and can be purchased for front or back seats.
True to its name, Stylin Trucks also offers numerous ways to personalize your ride, such as with Putco's flaming inferno grilles. Starting at $59.02 and going up to $279.83 depending on your preferred style, these are great for making the truck truly stand out.

Let us know on our Facebook page how you'll be saving 10% at Stylin Trucks.