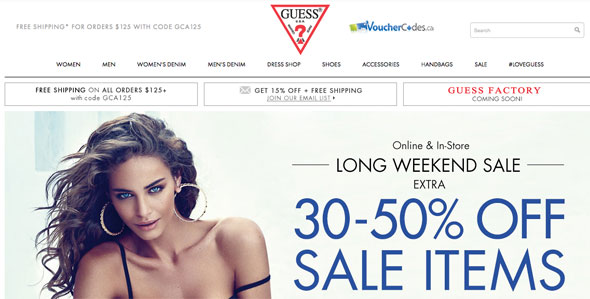 I think the title pretty much says it all. Thank you to the mystery person who submitted this coupon via the 'submit a coupon' in the sidebar, it's much appreciated. I tested it today and it works (for some reason about 80% of the coupons we get submitted are fictitious or inapplicable), so no worries there.
So Guess.ca don't release actual codes very often, usually like once a year or so, and they are not for super high amounts. But I wonder if this 10% off code can be used in conjunction with other offers (not usually but always worth a try), like sale items. Because while Guess doesn't release coupons often they do offer sales all the time, at the time of checking I saw a 30-50% off sale items sale, so this code would be most welcome if it worked for that sale. And as we all have until March 31st to enjoy this promo code we can keep checking back to see if what we are after comes on sale and then whack on the code on top of this (if we are allowed to of course).
10% off is no joke when we are talking about designer prices here. Even though Guess prices are not the super high fashion prices of the top labels their prices are higher than the normal high street, but apparently so is the quality, and of course I think we all like a bargain, so this offer might just tempt us enough.
Actually I take back what I said about their prices being higher. I think this sleeveless metallic dress from Guess is not only magnificent (amazing for 20's period parties, like my girlfriend and I like to go to sometimes) but also super reasonably priced, granted this is in the sale from $118.00 to $69.00, but I think it's a bargain. So if you haven't browsed their site in a while you might want to see what their designs are this year, you might just be surprised.
Remember shipping isn't free but it isn't expensive either at a flat rate of $15. For more offers from this store please visit this Guess.ca page.