If you haven't found time to play any of the SimCity games, then what are you waiting for? They are the ideal way to create a fantasy city or to let go of some rage by wrecking upon some unwilling participants. The deluxe edition is even more jam-packed with bonuses and extra features such as an evil villain lair and superhero HQ. Create your own version of Paris, France with a mini Eiffel Tower and an exclusive French police station.
Do I need to sweeten the deal? Pre-order now from Origin and receive a $10 coupon to use on your next digital download of $20 or more. That's a nice bonus!
Find out more at Origin games here
Expires: 31st January 2013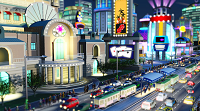 Every move, mouse click, and choice affects the game and the course of it. What may seem insignificant now could have a huge impact later at some point in the game. A new feature of this game is what they call the Glassbox Simulation engine, the purpose of which is to simulate much more realistically actual life and to reflect the social patterns that we have. Sims go to work and make purchases, cars exhibit traffic patterns (as well as accidents and traffic jams) and factories won't open in cases of too few employees.
It's a truly in-depth game that is virtually endless. Let's face it: we all have those moments where we'd like to drop a meteor on some unsuspecting people! Make it possible in this game by letting loose that rage on some poor sims that are just trying to make a name for themselves.
The game will be available on March 5th, 2013 and the $10 voucher is good for your next PC digital download from them. Maybe take a peek at the Sims 3 games?
How can you resist this game?