Some would argue that diamonds and flowers are a girl's best friends but what about instances of giving flowers just for the sake of it — wishing someone to get better or as a congratulations following a wedding or graduation. Since flowers are one of the easiest ways to bring joy into someone's life, order from 1800Flowers.ca and save 15% off your order with our VoucherCodes.ca Exclusive coupon code.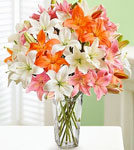 Flowers aren't just for giving as you can buy them for yourself as well! Take a moment to imagine how lovely the Vibrant Summer Lilies would look standing on your kitchen or coffee table in the living room.
In fact, among numerous other meanings, lilies symbolize hope, renewal and promise.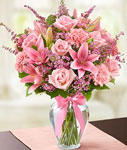 Considering that the long winter months often lead to an increased amount of births in the summer, the time may have come to begin thinking about the kind of flowers you will be ordering for the pregnant lady in your life (especially if she's your partner or wife). For those expecting a baby girl, then the Expressions of Pink featured on the right would look absolutely wonderful. As for those expecting a baby boy, then the New Baby Boy bouquet is certain to look equally as lovely.
If the gender is still a mystery, then don't sweat it — there are plenty of gender neutral bouquets to choose from such as the Rainbow of Roses.
And the best part? Add a vase to your order for just $9.99 and save on it as well!
Is a joyous occasion coming up in your life? Share with us below.